After your conference call has been recorded, it can be played back via the internet through the Conference Control Center. Upon successful login, click on the tab at the top labelled "Recordings". The following screen will be displayed.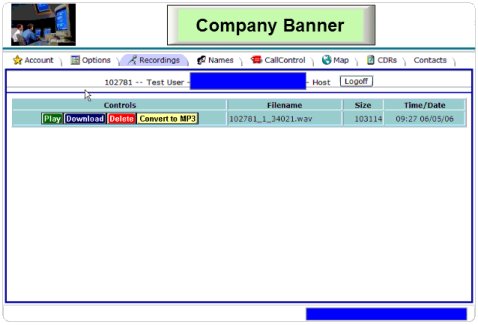 Each recording has four specific functions:
Play
Download
Delete
Convert to MP3

Play
The play button opens the appropriate browser plug-in to play the recording within the browser (i.e. Quicktime). To return to the previous control panel, click the back button on your web browser.
Download
The download button opens your browser's download window. For here, you may select a location to download your recording to.
Delete
The delete button will immediately delete your recording. There are no additional dialogs or questions regarding your recording. Pressing this button once will delete your recording forever.
Convert to MP3
The "Convert to MP3″ button will queue your recording for conversion to the MP3 format. The conversion takes place in a few minutes (depending on the size of the recording) and may be accessed by clicking the "Recordings" tab at the top of the page.
Tutorial
A web based tutorial on conference recording playback is available for viewing.